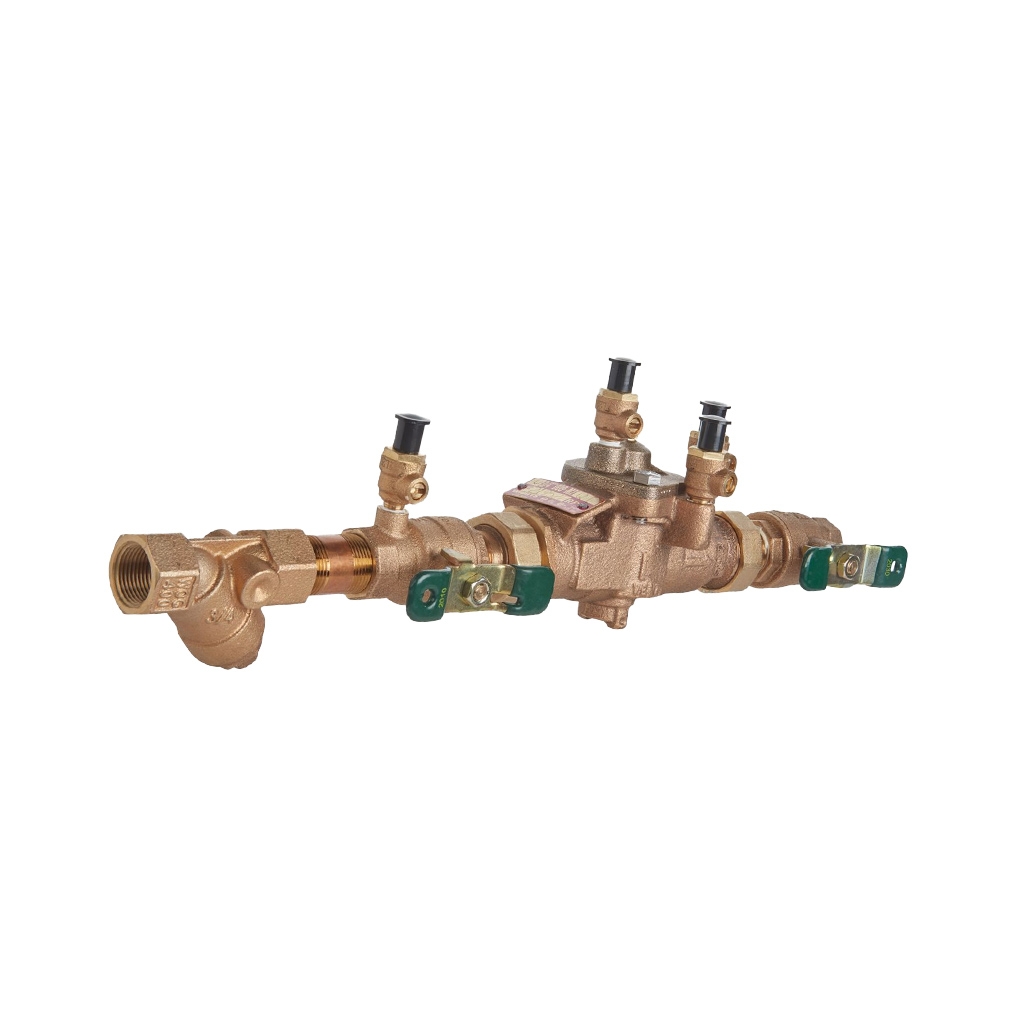 IN STOCK
WATTS Reduced Pressure Zone Assembly (RPZ) c/w Lockable Ball Valves and Y-Strainer (15mm)
---
---
Description
The WATTS Reduced Pressure Zone Assembly (RPZ) with Lockable Ball Valves and Y-Strainer is a specialized plumbing device designed to protect potable water systems from backflow contamination. Backflow occurs when the flow of non-potable water or other substances reverses and enters the clean water supply, potentially causing health hazards.
The RPZ assembly consists of a series of valves and check mechanisms that create a physical barrier, preventing contaminated water from flowing back into the potable water system. The assembly is typically installed at critical points in the plumbing system, such as irrigation systems, fire sprinkler systems, or commercial and industrial facilities where there is a risk of cross-connections with non-potable water sources.
The lockable ball valves incorporated in the assembly are used for isolating and controlling the water flow. They have a lever or handle that can be rotated 90 degrees to open or close the valve. The lockable feature allows authorized personnel to secure the valves in the desired position, preventing tampering or unauthorized adjustments.
The Y-strainer, also included in the assembly, is a filtering device that removes debris and particles from the water flow. It is designed with a Y-shaped body and a straining element, such as a mesh screen or perforated plate, which captures impurities and prevents them from entering the system.
The combination of the RPZ assembly, lockable ball valves, and Y-strainer ensures reliable protection against backflow events while also providing convenient control and maintenance options. This assembly is commonly used in plumbing systems where safety and prevention of backflow contamination are of utmost importance, such as commercial buildings, industrial facilities, and irrigation systems.
Features
 Australian Watermark Approved (AZ/NZS 2845.1)LI>

​

 

Rated to 82°C
 

Bronze body for sizes 20mm and 25mm, and Nylon for sizes 32mm to 50mm

 

Kit includes 'Y' Strainer and 2 x isolation ball valves

 

Reinforced nylon housing and silicone seat disc elastomer's

 

Optional 15mm reducing inlet adaptor and seal

Working pressure

Rated to 12000Kpa (2400Kpa hydrostatic)
Main Body Material

Reinforced nylon main body (FDA approved)
Wide temperature range

0°C to 82°C
Rubber type

Silicone & Buna Nitrile elastomers
Spring type

300 series stainless steel springs
Tailpiece type

LI>Cast bronze tailpiece ASTM B584
Testing

Type Tested AS/NZS 4020 Lic. 20111
Approved

Australian Watermark (AS/NZS 2845.1) Approved Lic. 1379